MAGICIAN GLEN GHIRARDI
Address: P.O. Box 123, Morgan City, LA 70381
E-Mail: ghirardimagic@bellsouth.net
Phone: 985-518-4651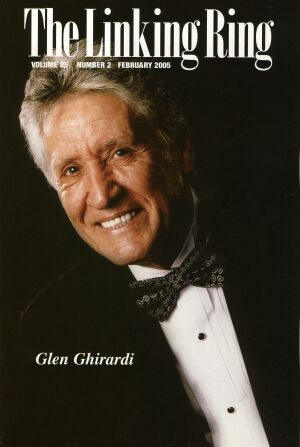 My name is Glen Ghirardi, a professional magician since 1966. I am the recipient of numerous awards for my stage act including international accolades. I have performed throughout the United States for conventions, television, corporate events, schools, libraries, birthday parties, and Avondale Shipyard in New Orleans with over 21,000 people in attendance. I am a member of the Eddie Adams Society of American Magicians Assembly #36, Earle Christenberry Ring 27, Pete Klinepeter Ring 178, and founder of the Glen Ghirardi International Brotherhood of Magicians Ring 214.

In 1976 I was the recipient of the prestigious "Originality Award", given at the International Brotherhood of Magicians Convention in Evansville, Indiana. In order to qualify for this award, a trick must be original and must be performed before a panel of judges. If there are no tricks that merit this award, it is not given out. There had been no recipient of the award for four consecutive years prior to my winning it. My trick is known as "The Ghirardi Multiplying Canes to Lit Candle". I have several of my original tricks printed internationally in books and magazines.







Some of the Magic Conventions I have performed for are the following:

	  1970 Southeastern Association of Magicians in Baton Rouge, Louisiana
	 *1973 Southeastern Association of Magicians in Atlanta, Georgia
	 *1973 Harvest of Magic in Chattanooga, Tennessee
 	 *1974 Harvest of Magic in Chattanooga, Tennessee
	**1976 I.B.M. Convention in Evansville, Indiana
	 *1978 Southeastern Association of Magicians in Chattanooga, Tennessee
	  1981 Florida State Convention in Fort Lauderdale, Florida
	  1981 Pacific Coast Convention in Portland, Oregon
	  1982 I.B.M. Convention in New Orleans, Louisiana
	  1987 Texas Association of Magicians in Corpus Christi, Texas
	  1988 Harvest of Magic in Atlanta, Georgia
	  1991 Texas Association of Magicians in Tyler, Texas
	  1994 Columbus Magic Fest Convention in Columbus, Ohio
	  1995 The World of Wizards Convention in Nashville, Tennessee
	  1998 Florida State Convention in Miami, Florida
	  2000 Daytona Magic Convention in Daytona Beach, Florida
	  2003 Florida State Convention in Winter Haven, Florida
	  2003 Southeastern Association of Magicians in Chattanooga, Tennessee  
	  2005 Winning of the Linking Ring Magic Magazine "Best Trick Award"
          2013 Magic Consultant for the movie "Now You See Me"

	  
	     * Best Stage Act
	    ** International Originality Award
MAGIC FOR ALL OCCASIONS
Birthday Parties

Library Programs
School Shows
Corporate Events